High Quality Dental Implants in Playa del Carmen
The All on 4 treatment is a dental solution that provides patients with a fixed full-arch prosthesis same day or the days after the surgery, this through only four implants, which are colocated, two in the straight anterior two tilted up to 45º in the posterior.
CONTACT US
All on 4 Price Mexico Comparison
All on 4 is a non-graft procedure with immediate function, it is very popular for its practicality and functionality, however, the number of implants depends on the quality of the bone.
The cost of All on Four in Mexico is up to 70% more affordable than in the United States and up to 63% accessible than in Canada.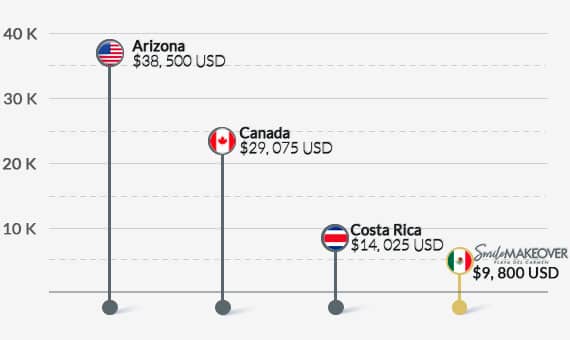 *At Smile Makeover, we have prices for this treatment from $9, 800USD
All on 4

Costs in Playa del Carmen
All on 4 is a very popular treatment due to its effectiveness in the treatment and restoration of the full arch, it regularly consists in the colocation of 4 implants, however, as we have previously mentioned, the bone quality will determine the total number of implants, which can range up to 6 dental implants.
Below you will find the All on 4 Cost Mexico and the prices for other restorative treatments. These costs detail what the process includes and what doesn't, if you want to receive a personalized quote, Contact Us.
Popular Treatment
All on 4
From $9, 800 USD
Save over $20,000 USD
$3,600 USD per 4 Implants
Immediate function
Immediate function
Very effective to the upper jaw
$4,500 USD per 5 Implants
Price in USA: $40,000-$56,000
For cases of severe bone resorption
Minimally invasive
$5,400 USD per 6 Implants
Greater stability
Included: Consultation, Models, Pictures, Periapical X-Ray, Panoramic X-Ray, 3D CBCT Scan, Surgical Guides, Medications, Aveloplasty / Bone Remodeling, Local Anestesia.
Not Included: Extractions, Bone Graft, Reabsorbable Membrane, Intravenous Conscious Sedation, Nitrous, Temporary Healing Denture, Immediate Load Denture, Fixed Restorations.
All on 4

Fixed Restorations
At Smile Makeover Mexico, we offer 3 permanent restoration options for your All on 4 procedure, while other dental clinics in the Riviera Maya only offer 1. Below, you will find the characteristics of each fixed restorations, it is worth mentioning that none it's better than the others, those are simply different, with distincts advantages and disadvantages.
This type of restoration lasts from 2 to 8 years, is highly aesthetic and moderately resistant to fractures, wear and stains. One of the Main advantages of the PEEK Framework is it's elastic qualities.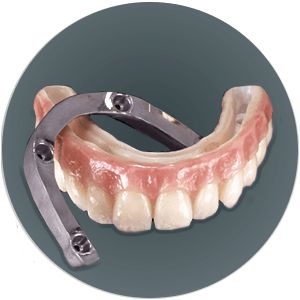 Fixed Hybrid Denture lasts from 2 to 6 years, is highly aesthetic, moderately resistant to fractures and stains, but low resistant to wear. This Restoration has been in place for over 40 years, and have been improved over time.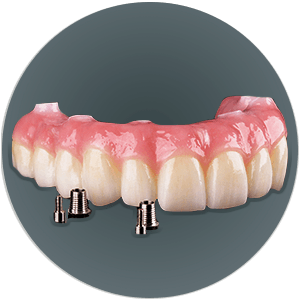 This type of restoration lasts from 2 to 12 years, is moderately aesthetic but highly resistant to fractures, wear and stains. These Restorations are also known as Zirconia Superstructures Zirconia Hybrid Denture or Prettau Zirconia Bridge.
Contact us to review your dental case
Our Staff is proudly prepared to give you the best dental care. We are the leading dentist for dental implants in Mexico.