Common Dental Problems and
Solutions
Senarios for very common problem cases presented at our clinic.
All Treatments on this page are done at our Playa del Carmen Facility.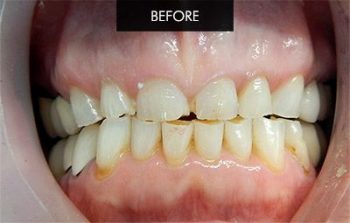 Bruxism
Bruxism is a movement disorder of the characterized by the clenching and/or grinding of your teeth, which can cause symptoms such as tooth wear, hypersensitive teeth, sore jaw muscles, headaches, and even damage to Dental Restorations. During a complete oral evaluation our Specialists are able to locate these issues, determine if this is a serious issue and provide the correct plan of action to correct it.
Price Comparison
4 Root canals + 24 Crowns + Crown lengthening + Crown removals + Post & Core build up
Total $13,560 USD in Playa del Carmen
Approximate Price in U.S.A. or Canada more than $31,500 USD
Loss of Vertical Dimension
The Vertical Dimension is the relation of space between the biting surfaces. A collapsed bite can lead to changes in facial proportions, affect TMJ functions and also can affect surrounding teeth in the dentition. There are two situations where someone may lose the vertical dimension of occlusion. One of these, the patient is Bruxism and has worn down his or her teeth so much that the biting surfaces are reduced, leading to a collapsed bite. The second of these situations would be a patient without teeth has lost the vertical dimension of his or her bite.
Price Comparison
28 Crowns (at $450 USD each Zirconia Crown)
Total $12,600 USD in Playa del Carmen
Approximate Price in U.S.A. or Canada more than $25,000 USD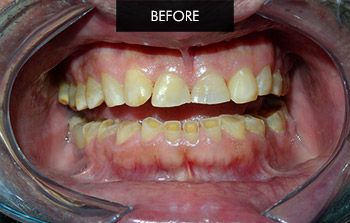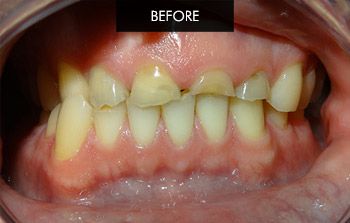 Severe Malocclusion
Malocclusion is a misalignment between the upper and lower jaws. Malocclusion issues can sometimes cause serious problems such as TMJ disorders and Bruxism. Malocclusion issues can be corrected with restorative procedures, such as crowns and bridges, orthodontics and sometimes even surgery.
Solution
Dental Crowns, Dental Bridges, Orthodontics/Braces, Orthognathic Surgery
Failed Restorations
When a restoration such as a filling, crown, bridge, or veneer has been filtrated (meaning that it is no longer sealed properly), broken off or fractured, this would be considered a failed restoration. When this happens we must remove the failed restoration, evaluate the condition of the tooth and then take the steps necessary to construct a new functional restoration.
Solution
Dental Crowns, Dental Bridges, Veneers, Fillings, Extraction, Dental Implant.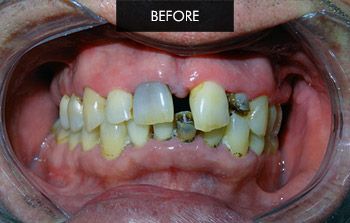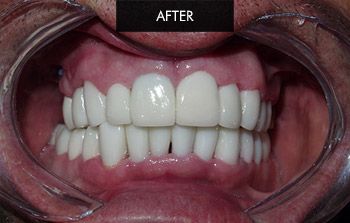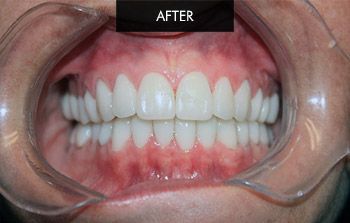 Cosmetic Porposes
Some people don't have major dental issues but look for a more stunning or brighter smile. This scenario calls for a Cosmetic Restoration. These types of restorations commonly consist of crowning or veneering the teeth.
Solution
Dental Crowns, Dental Bridges, Porcelain Veneers, Composite Resin Veneers, Tooth Bonding