We're leaders in Mexico on Digitally Designed Implants
Dental implants, in summary, are connectors of a custom-made crown through the natural bone of the jaw; on Smile Makeover, we offer you different types and solutions about your personal case.
We proudly offer you the ultimate Technology & Equipment in order to provide high-quality dental implanst or any other dental treatment. Additionally our On-Site Dental Lab helps us by cutting timeframes by Almost 80%.
GET STARTED
At Smile Makeover we create smiles for patients around the world. Our patient are people who are looking for an affordable solution for their dental care. We are committed to you to deliver excellence on every step of the process. From the first contact to the final treatment you will discover a new dental experience.
We have many dental implant options, depending on your specific situation. Our Specialized Dentists in Playa will talk to you about the best option for you by size (regular implants, mini implants, short implants and zygomatic implants) and / or by material (Titanium and Zirconia).
Dental Implants Materials
The most common dental implant materials are titanium or zirconium. In any case, they must be strong and robust enough. Here are the main properties of each material.
Titanium is the most common type of dental implant materials. Titanium implants allow the bone to grow aright. When that is placed in contact with the bone and is not disturbed; the bone will grow next to them.
Titanium dental implant provides long-lasting results, and the cost is very reasonable.
Their designs can be produced in a two-piece system. One connecting to the replacement tooth and the other in the bone. Two pieces system allows for a customizable implant that solves low bone deficiencies.
Titanium is biocompatible, that means it's closely matched the human body. This includes to the bone system.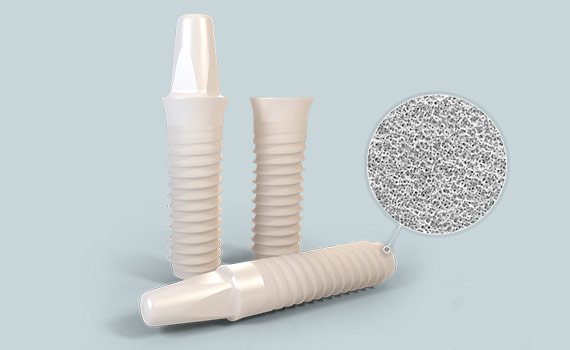 Zirconia is a recent invention. It is regarded as the most promising future of dental implant materials. Although they are relatively new, zirconia dental implant materials are rising in popularity.
The zirconia is manufactured as a single piece. Zirconia dental implant materials combine both post and abutment into one unit. This reduces the fear of bacteria hiding and affecting the gum.
Being a relatively new material, Zirconia dental implant hasn't seen any tests yet.
Costs of Dental Implants in Mexico
See below different treatment estimates for different cases, in this section you will find cost comparative options as-well and treatment scenarios.
State-of-the-art technology for implant placement
Our patients have left us testimonial videos about how has been their experience and recovery on Smile Makeover, from the first contact with the clinic to the accompaniment to the airport.
You are getting closer of getting the super smile of your dreams, trust the experts and save thousands of dollars on your dental treatment.