People with severe dental problems are candidates for a
Full Mouth Restoration

, refers to rebuilding all of the teeth in a patient's mouth. Full Mouth Restoration combine esthetic with the science of restorative dentistry to improve the health, function and beauty of the smile.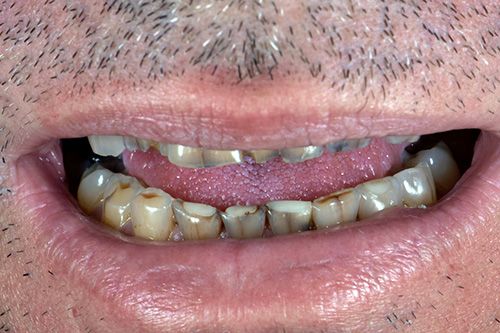 Having a Full Mouth Reconstruction or Full Mouth Restoration is a series of dental procedures required to fix serious dental problems and enhance esthetics. If you are suffering from Malocclusion issues, TMJ, Severe Caries, Decay or Missing teeth, you may be a candidate for a Full Mouth Reconstruction. These kinds of treatments usually require the expertise of numerous Dental Specialists, depending on the extent of your dental work.
We have invested in state of the art equipment including: Intraoral Scanners (less chair time), CBCT 3D X-Rays (precision X-Rrays for surgical planning), Surgical Guiding for implant placement (reduces risk of poorly placed implants and enhances the restorative process), CAD/CAM technology, Full in-house Laboratory (perfectly sealed margins, quicker turn-around time on lab work) and Waterlase iPlus System (less evasive treatments and healing time).
Your Dental Work in Playa del Carmen should be done correctly and we have taken all the steps necessary to be able to provide all of our patients with a life changing dental experience!
Why Full Mouth Restoration?
Full Mouth Restoration combines multiple restorative, neuromuscular an cosmetic procedures. The goal es to restore not only the look of your teeth but also the stucture and function of your mouth.
How can I start the
Full Mouth Restoration

Process?
We compromise to find the right solution for your dental needs, all at the right price !